InteriorMall.com Year of DIY Projects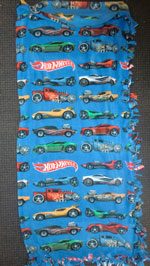 At InteriorMall.com, we stock fun fleece patterns for all kinds of projects. This cute fleece tie sleeping bag is a great diy fabric project. Quick and easy, we completed our sleeping bags in about an hour. All it takes is some fleece and a pair of scissors - no sewing required!
See all our Fabric Projects >>


Gather Supplies
• Fleece Fabric
• Scissors
• Ruler/Cardboard Guide for Strips

Choosing the amount of fleece you need is dependent on the size of the sleeping bag. For our example, we used 1 1/2 yards of 60" wide fabric for our young children (5-7). Keep in mind that a yard of fabric is 36" (3 ft) and 2 yards is 72" (6 ft). We don't recommend this project for an adult since we are folding the fabric over resulting in a 26" wide bag.
Step-by-Step

Step 1. Trim any selvage off the fleece. Fold in half with right sides showing.
Step 2. Pin or clip the edges together so fabric does not slip while you are cutting. Measure and cut a 3" square in the corner (where front and back are not connected).
Step 3. Cut 3" long by 1" wide strips around the bottom and side.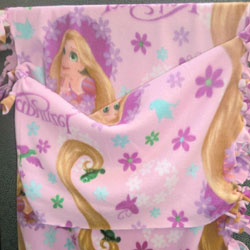 Step 4.Double-knot the strips together around the bottom and about 3/4 of the way up the side. The strips on the top side should be tied but not together so that the child can get into the sleeping bag. Another option is to cut the fold and tie single layer fringe so that the whole top piece can fold over completely (shown on the Rapunzel bag).
Find the Step-by-Step Instructions Here >>
Featured Items at InteriorMall.com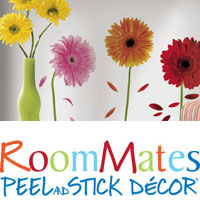 Over 300 New Wall Sticker Designs


Roommates wall stickers and decals for your home. Roommates wall stickers are easily moved and do not leave any sticky residue. Great design options for adult and kid spaces.