Celebrate the beginning of the holiday season by giving your home an autumn makeover. Whether it's your turn to host Thanksgiving dinner or you just want to warm up your home with the colors of falling leaves, a few simple touches can transform your world into an autumn delight. Here are few ideas to get you in the mood.
String up some lights. As the summer sun fades and fall filters the flood of light, a string of lights or two will warm up any atmosphere. You can find a variety of lighting choices at novelty and craft shops. Everything from pumpkins and gourds and more can be found. Sometimes a simple string of just white lights is just what your room needs. Drape a strand around a favorite sideboard or tack up a string to highlight a window. It's nice to use enough lights that you don't need any other lighting—the affect is an ambiance that can only be recreated with this technique.
Make a dried leaf arrangement
. All you need is a
vase
and a pair of pruners to get this project going. Use clippings of evergreens and cones mixed with twigs and turned leaves to create a fascinating focal point for any table or mantel. Scale is what makes these types of floral arrangements striking; choose an oversized urn or a miniature vase. Get creative with your container. Try objects like pottery, an umbrella stand, a wine glass or a coffee can to display your arrangement.
Make disposable placemats. Great for large or informal gatherings, you won't have to worry about spending your party budget on new place settings. Use brown packaging paper as your base and then decorate to suit your needs. Cutouts and stencils are a good start, but why not make a fall collage for your guests to enjoy? A mat trimmed in grosgrain ribbon then topped with orange-red leaves and tiny pinecones is perfect for the season and even a catered affair.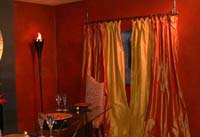 Add window dressings. This is a good time of the year to hang some curtains or swags. Aside from adding a new dimension to the décor of your home, curtains will also insulate your home where most heat escapes. Use decorative tiebacks to drape a bolt of heavy fabric like corduroy, velvet or canvas across the top of your windows. Doing this will keep the cold out and warm your home in more ways than one. The color doesn't have to be a fall color. Just the weight and texture of the fabric will speak the seasons' tidings.
Dress a little or dress it all. Depending on the effect you're going for, this is one of those things that you really can't over or under-do. Less is often more, but in the spirit of true holiday decorating, more is acceptable. If you do plan to grace everything in your home with a reminder of the season, remember to pick a theme—at least one per room—to develop continuity and uphold elegance. Choose a color or idea to run throughout your visual show.