2011 Color Forecast
As we anticipate the color trends for 2011, home decorating colors spring to life with vibrant and elegant hues sure to please the eye. Whether you plan to bring new colors into your home with paint, accessories or fabrics, you should have no problem finding the perfect palette for your home.
Pantone's color of the year is Honeysuckle. Courageous. Confident. Vital. A brave new color, for a brave new world. Let the bold spirit of honeysuckle infuse you, lift you and carry you through the year. It's a color for every day – with nothing "everyday" about it.

As designers and homeowners, we are always looking for balance. Since color trends have longevity, it's no surprise that Honeysuckle perfectly complements 2010's color of the year - Turquoise. As color trends evolve and shift over time, we embrace each new year and each new color as a way of making things new and better.
Benjamin Moore 2011 Color of the Year: Vintage Wine is a rich hue with a deep brown base and a hint of smoky violet. As an undertone in many of the latest wood finishes, leathers, and other textiles, Vintage Wine, and its lighter variations, will make a great paint color pick for many applications over the coming years.

Color plays a critical role in drawing the eye and attracting our attention. If you are stuck in an all-beige world, perhaps its time to escape. Choosing colors for your home is fun and exciting. Happy decorating!

Follow us on Facebook As the Curtain Hangs
Fun prints, soft color stripes, playful polka dots, beautiful flowers and coordinating solids contribute to this great collection of fabrics.
Mara's original designs are hand-engraved and hand-painted with glazes on uniquely shaped stoneware pieces. A very durable material, stoneware will last for years while keeping its original beauty. Each piece is fired twice at a high temperature and finished by hand.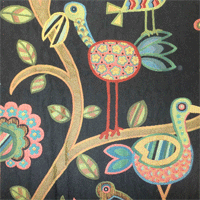 Trendsetting fabric for 2011 - Crazy 'Ol Bird. Vibrant colors and rich textures make this fabric perfect for any application. Have fun with this fantastic fabric.


New Discount Fabrics
Great buys in our bargain instock fabric section. Check
out all the beautiful fabrics
available direct from our showroom and warehouse.
Upholstery and Drapery Patterns


We want your photos! We are compiling photos from our customers highlighting the many ways to use our fabric. Send us your photo with a short description along with permission to use your image and you just might find it in our next newsletter or on our blog and Facebook pages. Please send all images and information to design@interiormall.com