Curtain Rods

From basic curtain rods of all types including standard curtain rods to double curtain rods, triple curtain rods to bay window curtain rods and corner curtain rods it is offered here. You will find clear curtain rods, extra wide curtain rods and cafe rods for all your shorter curtains. Thats not all as curtain rods for the shower along with tension curtain rods are also available. All curtain rods are offered at great discount prices. We handle a wide selection of various types of curtain rods, so if you don't find the curtain rod you are looking for online, please call our knowledgeable and helpful customer service team for assistance and great pricing.
---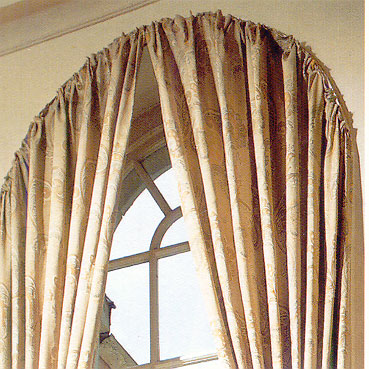 Arched Window Rods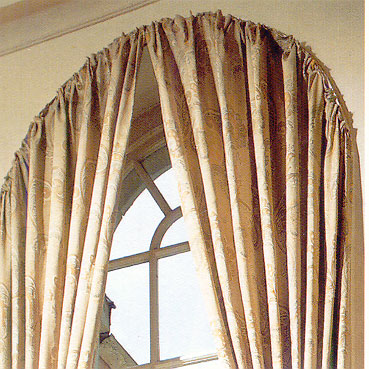 Bendable
curved curtain rods
for arched window treatments can be found in these
arched window curtain rods
. Choose from wrought iron scrolls for stationary window treatments and scarves to
flexible curtain rods
as well as
arched curtain rods
and
curved curtain rods
.
Bay Window Curtain Rods Corner Window Curtain Rods
The
Bay Window Curtain Rod
selection includes 3/4" and the wide pocket 2 1/2" sized
bay window curtain rods
as well as standard sized
corner curtain rods
. Both the wide pocket
bay window curtain rod
and the standard pocket
bay window curtain rod
will fit any angle bay window. The
corner curtain rods
which are only available as a double rod, but can be used as a single
corner curtain rod
by using only one curtain rod. The
corner curtain rod
can be used for inside corners or reversed for outside corners and is ideal for curtain panels and valances.
Crystal Clear Curtain Rods
The Crystal
clear curtain rods
by Graber includes
clear curtain rods
, clear magnetic curtain rods, clear arched rods, clear cafe rods and clear sash rods. These
clear curtain rods
disappear under sheer and lace curtains making them a no show curtain rod.
Single - Double & Triple Curtain Rods
Standard/Plain
Curtain Rods
,
Double Curtain Rods
and
Triple Curtain Rods
, including curtain rod extenders to make extra long curtain rods. These
curtain rods
come with a smooth plastic no sag end insert for use to protect curtains when shirring onto the rod. Multiple adjustable widths of
curtain rods
are available along with various sized returns. Curtain rods are great for window valances and stationary curtain panels.
Wide Curtain Rods
Wide curtain rods
for a variety of window treatments including valances and curtains with large rod pockets. These large
wide curtain rods
are also commonly known as Dauphine rods and offer an alternative to the standard sized
curtain rod
. These
wide curtain rods
are offered in 2 1/2" and 4 1/2" sizes for a variety of window treatment options.
Cafe Curtain Rods
Decorative traditional and contemporary, these
cafe curtain rods
are similar in use to sash rods and are ideal for your cafe curtains. A
cafe curtain rod
is a narrow metal or plastic rod used to hang lightweight cafe curtains.
Cafe curtain rods
generally are attached to the wall or window frame with brackets, although some
cafe rods
are telescoping, tension rods with rubber tips; which can be used to anchor a rod in between two walls or inside deep window frames.
Cafe curtain rods
were traditionally used to hang kitchen curtains on the bottom half of the window.
Tension Curtain Rods
The
tension curtain rods
consists of
spring tension rods
and
tension rods
for hanging your curtains without using screws in side windows, closets and your shower as well as being the perfect choice for other decorating options.
Adjustable Curtain Rod Sets
K Scope presents these
adjustable curtain rod
sets that include finials,
adjustable curtain rod
and curtain brackets that are able to fit any sized window treatment.
Graber Commercial
Graber Commercial Drapery Track
Systems & Hardware offers quality ceiling and wall mount curtain tracks for heavy duty commercial use. This selection of
drapery track
and
curtain track
is the perfect choice for contract use as well as for heavy draperies for residential uses. Choose from a variety of sizes and track combinations that includes baton draw as well as cord draw with all the hardware parts and accessories.
Graber Curtain Rod Hardware and Parts
Graber Curtain Rod Hardware and parts
complete selection of accessories available to help complete the look of your window treatments. Choose from curtain rod carriers, curtain rings, traverse cord, cord tension pulleys, mounting brackets, center supports, curtain rod brackets, extenders, as well as curtain pulls and other hardware accessories and parts.
Graber Traverse Rods
Graber Traverse Rods
offered in standard duty
traverse rods
to heavy-duty
traverse rods
, and super heavy duty traverse rods all in a variety of different sizes and rod combinations. Graber offers two-way draw traverse rods to one way left and one way right as well as traverse rod sets with curtain rods.
Shower Curtain Rods
Shower Rods
for decorating your bathroom are available in unique looks that are not typical. Along with these
shower curtain rods
are designer spring tension rods and continental rods for hanging shower curtains that are offered for looks that will be exclusive to your bathroom.
Conceived in 1892 by S.R. Scottron under U.S. Patent # 481,720 the first curtain rods design is still widely used today. It may have originated over 100 years ago, but its original design has been expanded upon and today there is a wide selection of choices for decorating. Window covering curtain rod options today offer choices for valances, sheers, rod pocket curtains, arched windows and other specialty drapery applications. Choose from basic curtain rods for single window treatments to double rods and triple rods for more elaborate treatments. Standard duty to heavy duty curtain rods are available along with magnetic rods for attaching curtains to metal surfaces without making holes. If you have a bay window or need to go around a corner, its not a problem, there's a curtain rod for that. Cafe curtain are a breeze with rods designed especially for those window treatment applications. The similar in use, sash rod is also available along with tension rods for no holes, spring pressure attachment. Included in the spring tension line are shower curtain rods that are great for use in decorating your bathroom and as closet rods. Clear curtain rods that are flexible and great for use in arched windows as well as for use with transparent fabrics where the rod may show are also featured. Extra wide rods are also offered, not only in height with the 2 1/2" and 4 1/2" Graber Dauphine rods for flat pocket curtains, but also extra long curtain rods along with curtain rod extenders. Parts and hardware for curtain rod repair is also offered.