1-800-590-5844
How to Make a Fleece Blanket
Fleece Blanket Instructions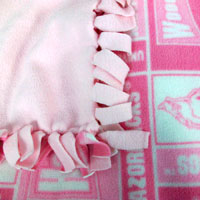 Creating a warm, cozy blanket is the perfect project for a cold winter day or for any other occasion as well. If you need an inexpensive and easy to do craft project, making a fleece blanket is a great choice. If you don't want to sew anything, there are a couple of options. One is to just purchase a fleece panel, trim the edges and you're done. Fleece is the perfect choice material because the edges do not fray. The second option is to create a tied-knot fringe blanket. Before buying your fleece, you need to decide who it is for and what size to make it. For an infant, one yard of fleece per side will make a nice sized blanket. For an adult or youth you will need at least 2 yards of fleece per side. If you choose a double layer of fleece then be sure to buy twice as much fleece. You will need two coordinating pieces of fleece that are the same size. A print and a solid together look very nice, but you can also use two solids or two prints!

Gather Your Materials A pair of good sharp scissors
Straight Pins (optional to pin pieces together)
Tape Measure or Ruler
Fleece Fabric
What To Do For A Single Sided Blanket
Using a single layer of fleece sized to meet your needs, trim the blanket until all 4 edges are even,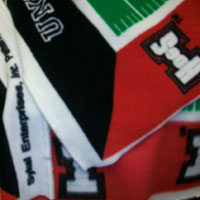 removing the rough machine finished edges in the process. Determine how long you would like your fringe to be. For an infant blanket, 1-2 inch fringe is nice; you can make it longer for larger blankets or keep it short. It's up to you. When you decide how long your fringe will be, cut a corresponding length square out of each corner of the blanket. For example, if you want your fringe to be 2 inches long, cut a 2x2 inch square out of each corner of the blanket. This will make the corners nice and neat. Then simply cut fringe all around the blanket to the depth and width you like. The width of your fringe can range from ½" to an inch and up. Any smaller than that and the fringe becomes weak and prone to tearing off.
What To Do For A Double Sided Blanket
Spread out both pieces of fabric on a large flat surface. Trim off the unsightly selvage edges of the fabric. Trim the fabric so that both pieces are the same size.

With right sides facing OUT, smooth fabric out until there are no wrinkles or fabric bunching.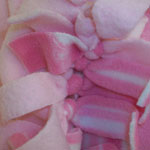 Pin the two pieces together a few inches from the edges, don't worry if one piece is slightly larger than the other. (Optional)

Cut a 4" square out of each corner of the fabric. (The size of the fringe depends on your personal preference. The width and length can be adjusted to the look desired.)

Cut 4 inches into both fleeces at 1" wide. For extra help, lay a tape measure across from the corner of the cut out corner to the other corner. Your fringes don't need to be 1" exactly, just try to keep them the same size. (You don't want to have one fringe 1" and the next one 2")
Starting at one corner tie the first two pieces of fringe together. Remember you are tying the bottom fleece to the top fleece. Tie with a double knot -- the knot shouldn't be super tight. Tie a few fringes on each corner (which helps keep the fabric straight). Repeat around all four sides. Make sure you make two tight, overhand knots for your fringe. This should hold it together through washer and dryer cycles. To make the tying look more even, tie every other one, all the way around the blanket, then flip the blanket over to the back and tie the rest.
At InteriorDecorating.com, we have a huge selection of fleece fabric.Shop Now