1-800-590-5844
Eyebrow and Arch Window Treatment Ideas
Eyebrow windows can dramatically improve the look of your home. Blocking light, heat or creating privacy can prove to be a difficult task without the right tools and knowledge. Here are some ideas for making the most of your half round, arched windows and eyebrow windows. How do I hang curtains on an arched window? You have several options explained below.

Pinch pleat drapery panels can be installed beautifully with the notched right angle pin or hook strip. The pin strip features holes that allow you to place the drapery pins as needed. It is notched to allow it to form to the arch of the window. The holes in the top of the strip allow you to attach it to the window trim or casing. The notched right angle hook strip features hook tape that will connect to the loop tape on your curtains (like Velcro®). These arch window treatments will be stationary and are for inside mounting.
Regular pocket rod window panels can be hung on an arched rod. You can find arched curtain rods here. Once the curtain is hung, you can cut the bottom straight across and re-hem it or use tie backs and let them cascade down the sides. You will want to use extra long panels for this. The Arch Curtain Rod Crystal Clear by Graber includes sturdy brackets for mounting outside the window frame and includes optional parts to install inside the window frame. The Kirsch Arch Top Clear Rod includes clips for mounting inside the window frame (will possibly work outside but not as well as the Graber option) and instructions for making curtains.

A sunburst window treatment can be created with the clear arch rod with the specialy window kit that includes sewing instructions. Helpful videos are available on several of our arched window products.
For windows up to 48" in diameter, you need 1 1/2 yards of 118" wide sheers or 3 1/2 yards of 48" wide lace or fabric.

Specialty Window Kit Instructions
Hang tab top curtain panels from antique hooks installed around the arch of the window. Cut the bottom straight across and re-hem.
Installing wooden shutters that include a sunburst top that fills the arch attractively is a popular option. Create beautiful simplistic lines with custom shutters.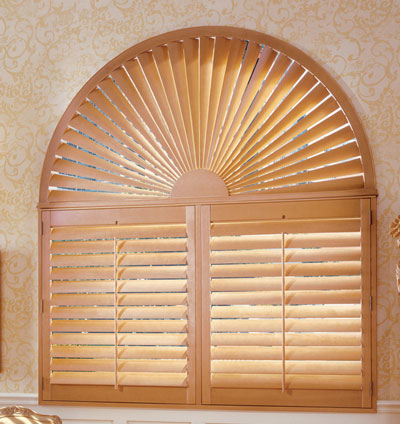 Let more light in by installing shutters or blinds across the window while leaving the arch exposed.

Chances are you picked a home with arched windows because you thought they were beautiful. Unless privacy is an issue, why not leave them bare or at least nearly bare. You can add interest or coordinate them with your décor by hanging a simple swag treatment above them or you can place a standing translucent floor screen in front of them to filter light.
If you need to block light coming through your arched window or to control privacy - shop for window shades or blinds. There are many options for arched windows. Since there are so many types of arched windows, ordering custom made window blinds or shades is an easy way to get a perfect covering for such windows.

Another option is to treat the arch separately from the entire window. For example, cover the arch with wooden shutters or honeycomb shades and put roman shades, bamboo shades, draperies or another type of window treatment below.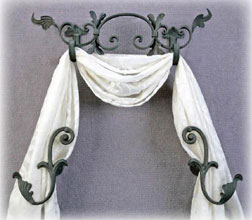 Hang a decorative window scarf in the arched section. Achieve this look by installing three hooks or drapery ornaments. Install one on each side and the third one at the top center or off to one side depending on your personal preferences. To give the windows some extra interest when you do not want to cover the window, you can add panels of fabric between or on either side of the windows hung from attractive hooks or window ornaments or short curtain rods.
Custom made cellular shades come in many colors and provide a professional and seamless look for your arched window. Call us for a quote.

We would like to put a photo gallery of treatment ideas on our site. If you would like for us to include your ideas, send us pictures of your window treatments to web@interiormall.com